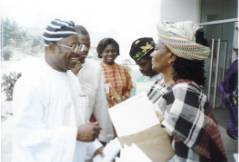 Sen. Dr. Jacob Tilley-Gyado & Amb. Sarah Jibril at Abuja 2001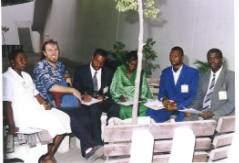 Dr. Quentin Espey from South Africa and other Delegates in a group work at Abuja 2001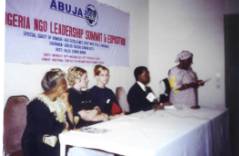 Some German Delegates and other Nigerian NGO Volunteers at Abuja 2001

COMMUNIQUÉ ISSUED AT THE END OF A 3-DAY ALL-NIGERIA NON-GOVERNMENTAL ORGANIZATION (NGOs) LEADERSHIP SUMMIT AND EXPOSITION-ABUJA 2001.
A. A three day All Nigeria NGO Leadership summit and exposition slated from February 19 to 21 2001 at National Center for Development, Abuja has been concluded.
B. Theme: The Role of Non Governmental Organization in National Development.
C. The event attracted moguls from the government and other stake-holders like senator Dr. Jacob Tilley-Gyado (Africa Environmental Action Network, Abuja), Amb. M .B. Ekpang (Yakubu Gowon Center Abuja), Dr.Anthony Marinho (Educare Trust Ibadan), Mr.Charles Abani (Action Aid-Nigeria), Prof. Aaron T. Gana (Africa Center for Democratic Government, Jos), Ibidun Adeniyi (Africa Leadership Forum Ota), Amb. Sarah Jibril (International Association for World Peace), Dr. Mrs. Rose Ekeleme (International Association for Volunteer Effort -West Africa Umuahia ), Chief Mrs. E. U. Ativie, JP (National Youth Council of Nigeria), Dr. Samuel Ukpong Japheth (Sajju Institue for Research Foundation, Lagos ) Dr. Bitrus Gani-Ikilama (Hope for the Blind, Zaria), Philomina Nweze (Radio Nigeria , Abuja), Olumide Akinsola (Nigeria Conversation Foundation, Lagos), Dr. O. A. Abosede (National Action Committee on HIV/AIDS, Abuja ), Mrs.Rifikatu H. Sabo (Women in Mobilization Activities, Kaduna ), Dr.Quentin Espey (Group for Environmental Monitoring, South Africa ), among others over two hundred participants.
D. At the end of the summit, the delegate from various organizations across Nigeria and sub-Saharan African resolved as follows : 1. That the summit, be held annually in February to coincide with the international year for popular participation (IYPP) and to be organization by NGOs GUIDE 2000 with a National planning committee; 2.That the venue of the summit should be rotational; 3. That the government should be given an observer status in the summit; 4. That there should be no apex body but rather consultative Fora for NGOs at all of government; 5.That participating organizations should mobilize more participation of NGOs in their localities by disseminating the objectives and proceeding of this first attempt; 6. That NGOs should have more focused relationship with government and corporate bodies for improved NGO activities in Nigeria; 7. That there is need for the large NGOs to assist the new NGOs by seeing themselves as Local Donor Agencies (LDA); 8. That international donors should emphasize local corporate social responsibility through partnership funding of NGO activities that is Donor Corporate Body Partnership (DCPB); 9. That NGOs should be more committed, sincere, accountable and transparent in their daily activities with other organization; 10. That there should be Recognition, Reward and Award Scheme (RRAS) for companies, individuals and other organizations who have excelled in NGO support; 11.That charity donation should be tax free; 12. That every Nigeria should be encouraged to be a volunteer; 13. That there should be Grant Scheme encouraging small grants to individuals and groups to fund activities in various areas; 14. That all NGOs should be encouraged to play WATCHDOG roles in every sphere and level of society; and 15. That charitable NGOs should be registered at lower fees than presently obtained at the ministries and Corporate Affairs Commission.
E. Delegates were happy with NGO GUIDE 2000, organizers of the summit, for their foresight and high spirit in reinvigorating the third sector for national development. They commended the organizers for hosting the summit successfully without sponsorship, and for bringing together many renowned people in the NGO community, donor and government agencies. They emphasized the need for other NGOs like the First Ladies NGOs to work in harmony with NGO GUIDE 2000 in order to achieve our collective objectives.
Summit Contact Details/National Planning Committee Members
Go Top >